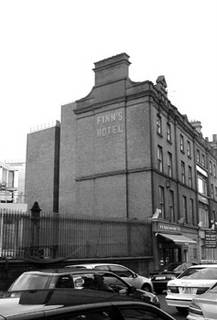 Finn's Hotel, Dublin

Nora was a maid at this hotel (that now sells bagels & juice) when Joyce met her. Finn's like
Finn
egans in the Wake. Their first date was at the nearyby Marrion Square, not far from Oscar Wilde's childhood home.
Once, while Nora was in Trieste and Joyce was visiting in Dublin, he found a way to see what had been Nora's room at Finn's so that he could look at "the little bed in which a young girl had dreamed of me."
"There are ten thunders
in the Wake
. Each is a cryptogram or codified explanation of the thundering and reverberating consequences of the major technological changes in all human history. When a tribal man hears thunder, he says, 'What did he say that time?', as automatically as we say 'Gesundheit.'" Marshall McLuhan--A Skeleton Key to Finnegans Wakeby
Joseph Campbell
book
---Mythic Worlds, Modern Words: On the Art of James Joyce
book
---The book begins with the fall of Finnegan, a
hod carrier
, from a
scaffold
. At his wake, in keeping with the song "
Finnegan's Wake
", a fight breaks out, whiskey splashes on Finnegan's corpse, and he rises up again alive. Note how the simple removal of the song's apostrophe emphasizes and universalizes the theme of awakening:
At Finnegan's wake
, Finnegans wake. (Not only is the "wake" simultaneously Finnegan's funeral and his birth, the beginning of the dream in which he is paradoxically awakened, it is also the turbulence left by his absence, the expanding ripples and rhythm in the wake of his vessel----
The online shorter
Finn
egans Wake----
a page a day--Joyce and McLuhan--
illustrations of a small part of
Finn
egans Wake--- CATALOGUE OF FLORA IN
FINN
EGANS WAKE--Finnegans Wake English--"
Finn
egans Wake" breakdown ---Three lists in
Finn
egans Wake (FW) stand out against the surrounding text like erratic blocks against a postdiluvian landscape. They are collections of single words, captions, short phrases, but not sentences

(does this mean that my grocery list is literature?)